Exemplary Achievements Honored at the Annual Preservation Honor Awards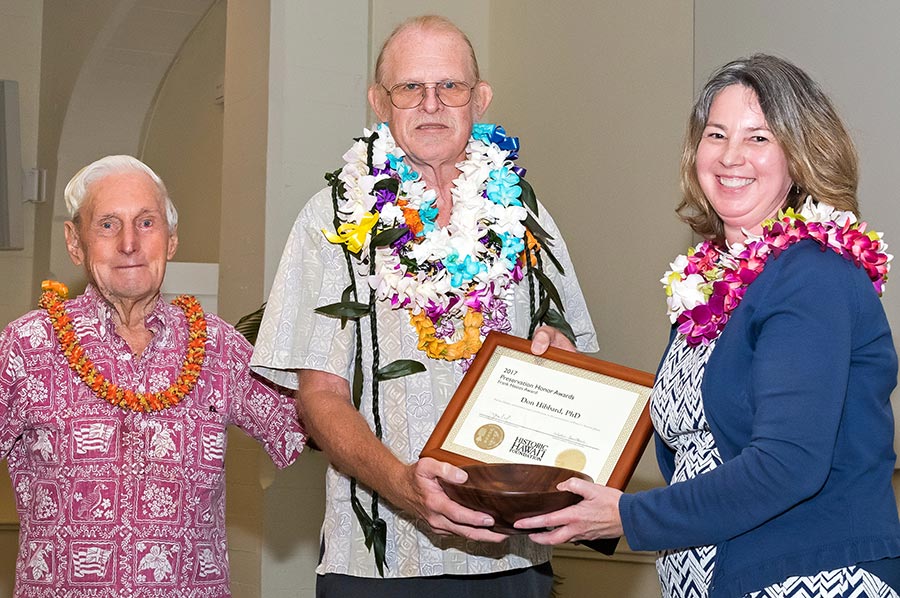 The 2017 Preservation Honor Awards were presented on May 19, 2017 at the historic YWCA Laniākea in Downtown Honolulu.  250 guests joined Historic Hawai'i Foundation at this celebratory gathering.  Architectural historian, Don Hibbard, PhD, was honored for the many contributions he has made towards preserving historic places in Hawai'i, including his career as administrator of the Hawai'i State Historic Preservation Division, the books he has authored on architectural history in the Islands, and as a community advocate who helps nominate properties to the National Register of Historic Places and increase awareness of historic places through educational programs.  As veteran architect Frank Haines summarized, "Don has done more to save Hawai'i's architecture than anyone I know."
A total of twenty-one projects were honored in the categories of Achievements in Interpretive Media, Individual Achievement, Preservation Commendations and Preservation Awards.
The milestone anniversaries of sixteen kama'āina companies, organizations and institutions in Hawai'i were also recognized in celebration of their rich history and how they help form the singular culture of the Hawaiian Islands.
MAHALO TO OUR SPONSORS
GOLD
SILVER
BRONZE
CHAMPAGNE
2017 HONOREES
9th Annual Frank Haines Award
Don Hibbard, PhD, Architectural Historian
Achievements in Interpretive Media
Crew's Room Exhibit at the Battleship Missouri Memorial, Pearl Harbor, O'ahu
Hilton Hawaiian Village's History Wall Exhibit, Honolulu, O'ahu
Paintings, Prints and Drawings of Hawai'i from the Sam & Mary Cooke Collection book
Sugarcane Days: Remembering Maui's Hawaiian Commercial & Sugar Company book
Wheeler Army Airfield Interpretive Display Panels, Schofield Barracks, O'ahu
Individual Achievement
Ms. Laurette Gail "Pixie" Navas, Kailua-Kona, Hawai'i Island
Preservation Commendation
Hawaiian Islands Land Trust's Talk Story on the Land Program, Maui, Hawai'i Island, O'ahu, Kaua'i
Joint Base Pearl Harbor Hickam Treatment Guidelines for Historic Facilities, O'ahu
Kona Historical Society's Jeep Trip Program, Kona, Hawai'i Island
Long-term Historic Property Monitoring Plan for UH Managed Lands on Maunakea, Hawai'i Island
Naval Air Station Barbers Point Historic Properties Assessment Project, 'Ewa, O'ahu
Pearl Harbor Shipyard Train Rail System Report, O'ahu
Translating Japanese Headstones on Kalaupapa National Historic Landmark, Moloka'i
USS Arizona Digital Preservation Project, Pearl Harbor, O'ahu
Preservation Award
'Ewa Community Church Restoration, 'Ewa Villages, O'ahu
Grace Center Rehabilitation and Adaptive Re-Use, Bond Historic District, Kapa'au, Hawai'i Island
Lāna'i Hospice and Physical Therapy Offices Rehabilitation, Lāna'i
Nā Kūpuna Makamae Center at Kaka'ako Pump Station, Honolulu, O'ahu
Pearl Harbor Naval Shipyard Building 208 Rehabilitation, Joint Base Pearl Harbor Hickam, O'ahu
Roof Replacement & Photovoltaic Panels Installation at Building 104, Wheeler Army Airfield, Schofield Barracks, O'ahu
Schofield Barracks Building 690 Rehabilitation, O'ahu
Anniversary Recognitions

175 Years
St. Raphael Church, Kaua'i
150 Years
St. Andrew's Priory School, O'ahu
 125 Years
Hawaiian Historical Society, O'ahu
Centennial – 100 Years
American Red Cross, Hawai'i Chapter, O'ahu
Borthwick Mortuary, O'ahu
Girl Scouts of Hawai'i
Higashi Hongwanji Hawai'i, O'ahu
Hilo Federal Building US Post Office & Office Building, Hawai'i Island
Hui Noeau Visual Arts Center, Maui
Japanese Garden in Lili'uokalani Gardens, Hawai'i Island
Makawao Union Church, Maui
Manago Hotel, Hawai'i Island
The Mission Memorial Building and Auditorium, O'ahu
Samuel Mahelona Memorial Hospital, Kaua'i
Komoda Store and Bakery, Maui
About the Preservation Honor Awards
The Historic Preservation Honor Awards are Hawaii's highest recognition of projects, organizations, publications or individuals active in preservation, rehabilitation, restoration, or interpretation of the State's archaeological, architectural, and cultural sites.  The Preservation Honor Awards are designed to recognize achievements in interpreting, preserving or restoring Hawaii's built environment.
Nominations are considered by a committee of professionals who are invited to serve on the Historic Preservation Honor Awards Committee.
Each nomination is considered on its own merit and not in competition with others.  The Committee reserves the right to select multiple awards or no awards in each category.  Nominations from all counties are encouraged.
Since 1975, the Historic Hawai'i Foundation has selected historic preservation honor award winners throughout the State of Hawai'i.
View the entire list of Historic Preservation Honor Award winners from 1975 to the present
Some of the past recipients include:
Hawai'i Theatre Center
Charles P.M.K. Burrows, Ed.D.
Mason Architects and the Doris Duke Foundation for Islamic Art
Nancy Bannick
W. C Peacock Roofing
'Ahuimanu Taro Complex
Pacific Aviation Museum
Loriann Gordon
Hale o Lono
YMCA of Honolulu and CDS International
Wailuku Courthouse
Hanalei Bridge
State Representative Corinne Ching
Lihue Hongwanji
PBR Hawaii
Mauna Kea Beach Hotel
Kona Historical Society
W. H. Shipman House
Pohaku: The Art & Architecture of Stonework in Hawai'i.