WAIKĪKĪ WAR MEMORIAL NATATORIUM ENVIRONMENTAL STATEMENT TO BE READY SUMMER 2018 Four Alternatives Will Be Evaluated in EIS 12/11/2017: The City and County of Honolulu provided an update on the status of the Environmental Impact Statement (EIS) that it is preparing to evaluate alternatives for the future of the Waikīkī War Memorial Natatorium. The purpose of the EIS is to recommend projects to renew the memorial and re-establish full public access to [...]
Thanks to the support of people like you, hundreds of historic property owners and stewards receive preservation assistance annually from Historic Hawai'i Foundation. Your contribution to Historic Hawai'i Foundation helps save places throughout our island communities for public benefit.
Nominations are due Friday, February 2, 2018. Are you or is an organization or individual you know working on a fabulous preservation project? If so, now is the time to spotlight their (or your) work [...]
View Historic Properties
Hawai'i's Historic Properties
Historic Property Pages Share Significance and Characteristics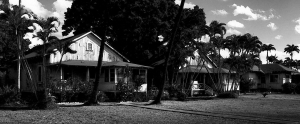 Properties that are listed on the Hawai'i or National Registers of Historic Places are shared through individual pages at the "Historic Places" tab on the website. The online listing of historic properties includes individual information pages for each designated historic property. The summary page includes the history, location and significance of each property, and a link to a digital copy of the original nomination form. The designated properties are organized by County and further sorted by type of property (residential building, non-residential building, sites/objects/structures, and other). Most of the locations include a map and photograph, as well as cross-reference numbers by address, SHPD site number and tax map key number.
The program is part of Historic Hawai'i Foundation's Preservation Resource Center and is supported by the Historic Preserves of Hawai'i grant from the Hawai'i Community Foundation. The list is provided as a public service, but is not the official register of historic places. For official designations and determinations of eligibility, contact the State Historic Preservation Division of the Department of Land and Natural Resources at 808-692-8015.
View Historic Properties
Preserving Hawai'i's History for 40 Years and Counting
A statewide non-profit organization, Historic Hawaii Foundation encourages the preservation of historic buildings, sites and communities relating to the history of Hawai'i. Founded in 1974 by concerned citizens who saw the need to protect the Islands' irreplaceable historic and cultural legacy from destruction, Historic Hawai'i Foundation has become the driving force behind preservation in the state through its core programs of developing a community ethic of historic preservation, supporting smart legislation, and providing direct assistance to make preservation accessible. Through strong partnerships with public, private and non-profit organizations, we protect the essential character of Hawai'i.