Announcing the 31st Annual Free Lunchtime Lecture Series featuring "Experts at the Cathedral"
Winter 2018, February 1-March 8
The tradition continues! This year's theme: The Battle of Nu'uanu: Contributions to the History of Hawai'i
The free weekly lunchtime lectures will be held on Thursdays from February 1– March 8, from 12-1 p.m. at St. Andrew's Cathedral, Von Holt Room, 229 Queen Emma Square, Honolulu
This year's schedule:
February 1: Jerry Walker, Community expert, scholar and practitioner, "Key Elements of the Battle of Nu'uanu"
February 8: Gordon Umi Kai, Pā Ku'i a Lua, "Na Mea Kaua: Weapons and Battle Formations"
February 15: Monika Frazier, Aloha Kuamo'o ''Āina, "Wahi Pana as Ike Waihona: When the land holds memory"
February 22: Professor William Chapman and Noelle Kahanu, University of Hawai'i Graduate Certificate Program Historic Preservation,  "Preserving America's Battlefields: Memorials or Interpretive sites?"
March 1: Sam 'Ohu Gon III, Nā Papa Kanaka o Puʻukoholā, "Lelekaʻanae: Commemorating the Battle of Nuʻuanu with
Community for 20 years"
March 8: Kim Birnie, Daughters of Hawai'i, "A History of Remembrance: Venorating the battle and healing
the wounds of Nu'uanu"
The annual series is sponsored by the Historic Preservation Program, Department of American Studies, University of
Hawai'i at Manoa; the Friends of 'Iolani Palace; and Historic Hawai'i Foundation.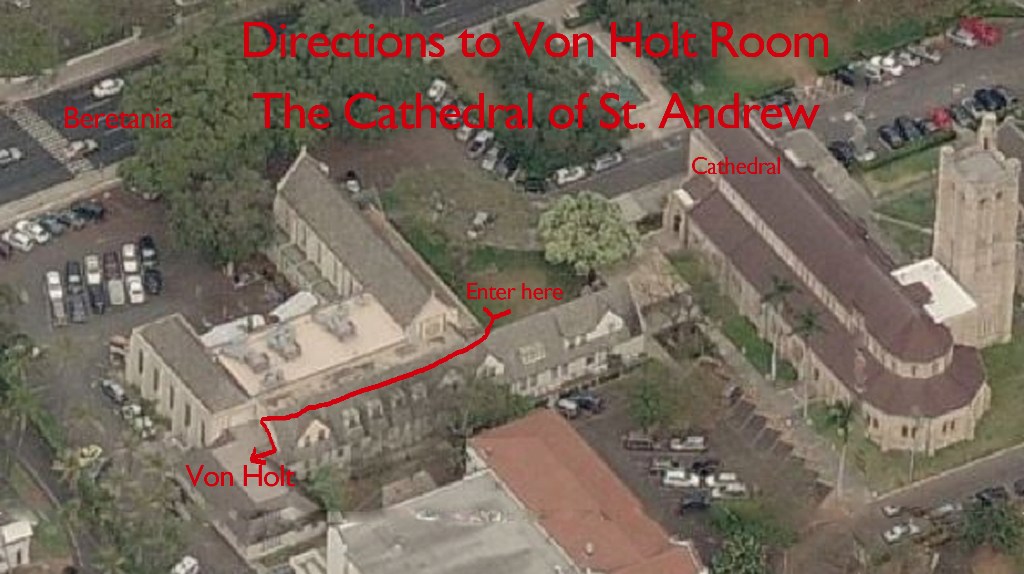 Stop by on your lunch hour and feel free to bring a brown bag lunch.
Click here for a map of the venue location.
PARKING: Metered parking is available near Iolani Palace. Parking is also available at the Alii Place Parking Garage located at 1099 Alakea Street near the Hotel Street intersection ($3 for 2 hours) and in the St. Andrew's public parking lot ($12 for 2 hours).
Open to all.  Reservations are not required.