An audience of more than 80 enjoyed a visual and auditory treat at Kaka'ako Agora on the evening of Thursday, December 3. Bradley is an award-winning architectural photographer who became interested in the use of photography as a tool to awaken people to the beauty and importance of preserving modern architecture. Bradley's presentation engaged the diverse crowd of millennials to baby boomers with wit and visual artistry. A bit of local history was coupled with beautifully-crafted shots of Modern-style local sites and buildings. Using his platform, Bradley made the case for protecting what remains, peppering the talk with photos of some sites that were either irreparably changed or no longer exist. After the presentation, guests enjoyed wine and pūpū and had ample time to talk story.
Mahalo to the event co-sponsors, Wei Fang of Interisland Terminal and her Kaka'ako Agora crew and Docomomo Hawai'i President Alison Chiu and her team.
Photos from the Kaka'ako Agora presentation:
One of modern architecture's most celebrated photographers came to town!  Hawai'i-born Darren Bradley shared his love of photography and modernism with audiences at two December events:
A free public lecture and slideshow at Kaka'ako Agora on Thursday, December 3
Time: 6:30 to 8:30 p.m.
Location: Kaka'ako Agora, 441 Cooke Street, Honolulu, HI
Light refreshments
Cost:  Free, donation suggested.
_______________________________
And as a special guest at Docomomo Hawai'i's annual Holiday Party on Saturday, December 5
Time: 6:30 to 9:30 p.m.
Location:  Private Residence (Diamond Head), address provided upon purchase of ticket
Drinks & pupu
Cost: $40
Come see images from Honolulu's boom years, as well as what remains today, as narrated by Honolulu-born architectural photographer Darren Bradley.  Bradley believes, "with its legacy of beautiful modernist architecture, Honolulu has the potential to surpass both Palm Springs and Miami Beach as a mecca for architectural tourism."
Bradley's award-wining photos have been recognized internationally.
Download the event flyers here.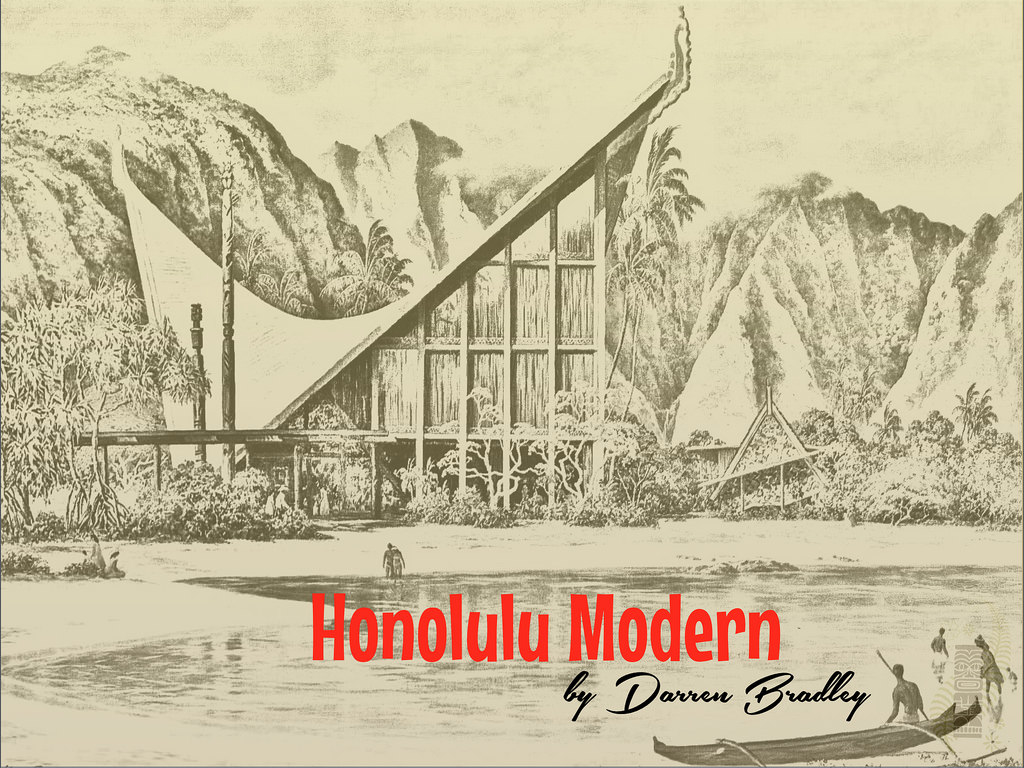 Bradley, who came to photography through his passion for modern architecture, will share images and stories about buildings from the mid-20th Century modern architecture movement, including examinations of how Hawaii's post-war building boom shaped island communities, and how the regional style relates to the international design movement of the period.
Hawaii's building boom coincided with the apex of modernist architecture in the United States.
In the years following World War II and with the rise of the jet age and America's obsession with all things tiki, Honolulu was transformed from a sleepy town into a booming tourist mecca. The legacy of that mid-century modern paradise lives on today, but is now facing challenges of crumbling and fading.
Bradley's work has appeared in large-format art books, academic and professional architecture journals, and lifestyle magazines around the world. He has won numerous awards, including the 2013 Paris Prix de la Photographie photography competition for the Advertising / Architecture category. His work was selected to be shown at the 2013 AIA convention in Denver, Colorado.
Read about Darren and see his photos on his website http://cargocollective.com/darrenbradley and blog, Modernist Architecture http://modernistarchitecture.blogspot.com/
The events are a collaboration of three local organizations:
Historic Hawaii Foundation, Interisland Terminal & Docomomo Hawaii.