Welcome to the HHF Gift Store
All major credit cards accepted online via secure payment through PayPal™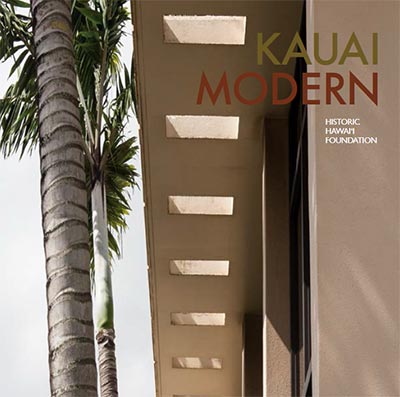 KAUAI MODERN
HISTORIC HAWAII FOUNDATION
"Kaua'i Modern" showcases a small but significant portion of the mid-20th century modern architecture movement on Kaua'i examining how Hawaii's post-World War II building boom shaped island communities. Architectural historian Don Hibbard and noted author Pat Griffin provide insight on the architectural features, historical background and social context of Modernist buildings and places around Kaua'i, beautifully photographed by David Franzen. Funding was provided by the Hawaii Council for the Humanities to promote the richness and value of the humanities—including an understanding of the architectural history and preservation of Hawaii's past—for the Hawaiian Islands. (Books purchased now will be shipped beginning October 1, 2017.)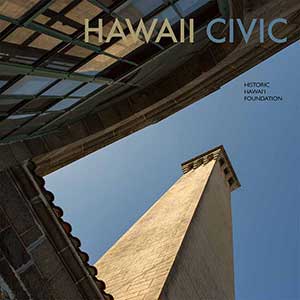 HAWAII CIVIC
HISTORIC HAWAII FOUNDATION
"Hawai'i Civic" showcases civic architecture which emerged in Hawai'i at the turn of the 20th century through 1940, also known as the Territorial Period. Don Hibbard's architectural history tells the story of civic design in the turbulent era through text and photos and input from historic architect, Tonia Moy. Viki Nasu's graphic design and Hawkins Biggins breathtaking photographs provide visual delight.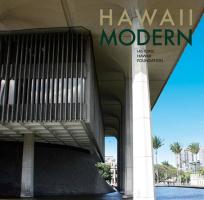 HAWAII MODERN
HISTORIC HAWAII FOUNDATION
"Hawaii Modern" showcases a small but significant portion of the built environment from mid-20th century in Hawaii. This 24-page, soft-cover booklet highlights homes, commercial buildings, resorts, public facilities, sacred sites, landscapes and other properties from this dynamic period. Historic Hawaii Foundation gratefully acknowledges the support of those who contributed to Hawai'i Modern, especially Don Hibbard, author & photographer, and Viki Nasu, graphic designer. Funding was provided by the Hawaii Council for the Humanities to promote the richness and value of the humanities—including an understanding of the architectural history and preservation of Hawaii's past—for the Hawaiian Islands.
Hawaii's Historic Corridors
WAIMEA NU`UANU WAILUKU KALAUPAPA LANA`I KAHOOLAWE HILO
Although each of the areas covered in this book can be celebrated for their individual historic value, the purpose of this book is to focus on a wider perspective; to look at how a system of individual structures and sites are symbiotically related.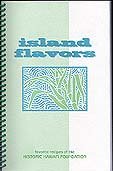 Island Flavors Cookbook
156 pages: This cookbook recaptures some of Hawaii's family favorites to help our chefs of the future carry on Hawaii's unique multi-ethnic food traditions. Recipes have been contributed by members of the Historic Hawai`i Foundation `ohana and friends, favorite restaurants, famous Hawai`i chefs and some famous cooks-including former Governor Ben Cayetano's pork stew.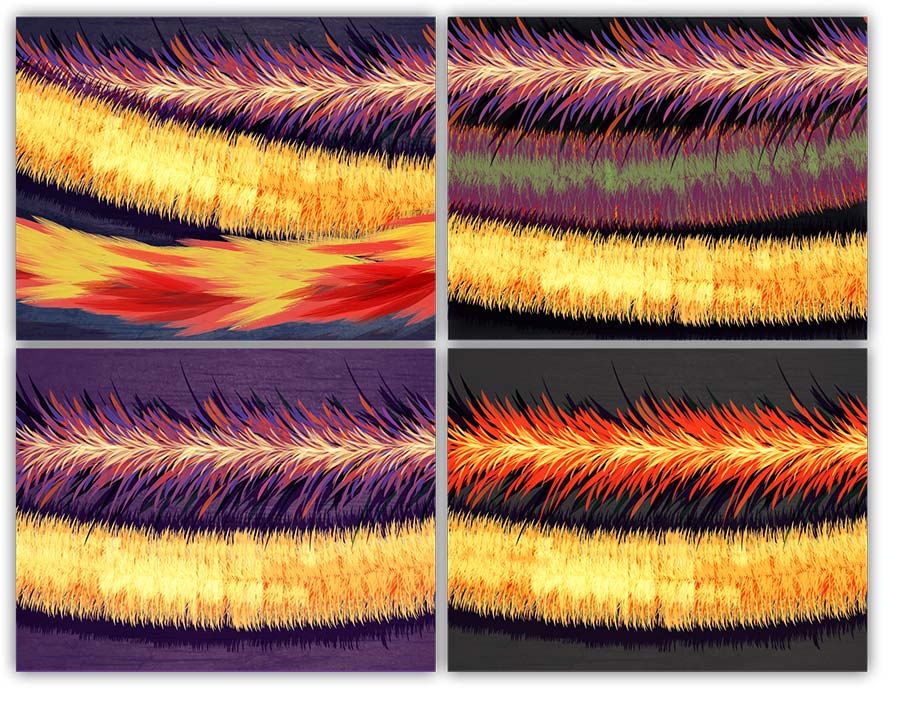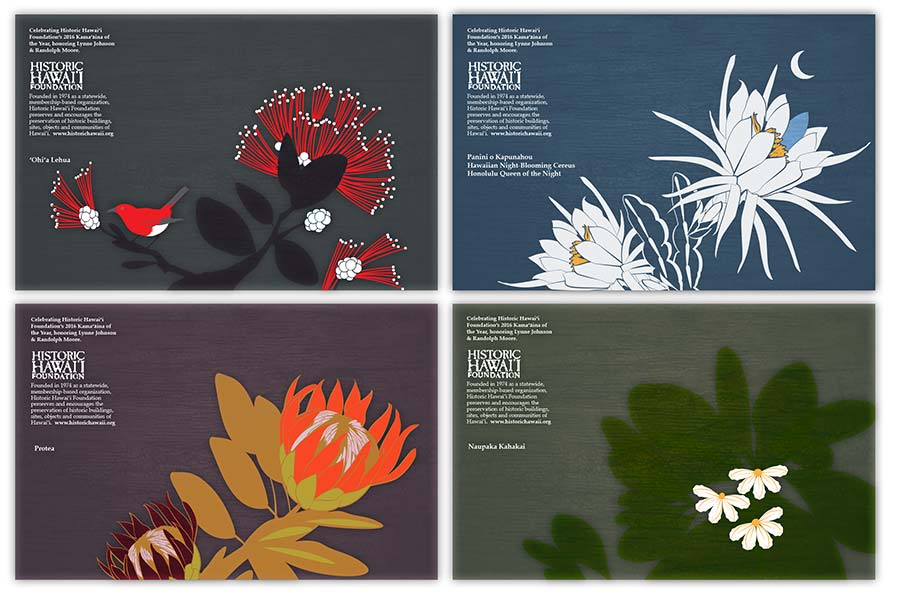 Historic Hawai'i Foundation Notecards
Set of four notecards specially designed for Historic Hawai'i Foundation. Designs vary. Includes four envelopes.
Feather Lei