The Waikiki War Memorial Natatorium was built by the people of Hawaii to honor the brave men and women of Hawaii who served in the Great War. (Hawaii was not yet a state during World War I.)
The Territorial War Commission estimated that over 10,000 men and women are honored by the War Memorial. They not only served overseas as soldiers and sailors, they were Red Cross workers, ambulance drivers and missionaries. They patrolled the harbors, entertained troops and bought war bonds.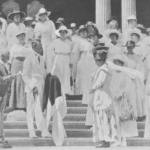 During World War I, Iolani Palace was used by the Red Cross for volunteers. Queen Liliuokalani made the Red Cross a flag to hang over Iolani Palace to signify the work being done within. In this photo taken on the steps of Iolani Palace, C.P. Iaukea holds the flag, while Gov. Pinkham delivers the address officially presenting the flag on behalf of Queen Liliuokalani.
After the War Memorial Natatorium was built, a plaque listing the men who died in service of the U.S. and British forces was added to the park in order to give additional recognition to these men who served in "The Great War" and gave their lives in service.
In U.S. Army Service
Agar, Vidal
Aki, Adam Young
Aki, Frank K. Jr.
Arcilo, Bragee
Arozal, Ariston
Bega, Cipriano
Bueno, Anastacio
Castillo, Esteban
Catton, Richard Belmont
Chapman, Henry Henley
Choy, Chin Sung
Ciempoon, Bidal
Cornelison, Alexander C.
Daguman, Julian
De la Cruz, Juan
De Roo, Carel J.
Dolin, Frank P.
Dwight, George K.
Esbra, Rufino
Eugenio, Anatalio
Evans, Henry J.
Ezera, Ephraim H.
Gaspar, Louis J.
Green, Francis J.
Hauli, Abraham
Hedemann, Edmund
Iopa, Daniel K.
Iskow, Edward J.
Kaea, Kuulei John
Kahokuoluna, Edward N.
Kainoa, Sam
Kalaeloa, Charles
Kau, Apau
Kino, Charles
Kuaimoku, Edward K.
Lee, Han Young
Makua, John A.
Marr, Kenneth D.
Mattos, Anthony R.
Mills, Philip Overton
Moke, Sam
Monsieur, Mariano
Naia, Peter
O'Connor, George
O'Dowda, John S.
Orbe, Aurelio
Puali, Joe
Quibal, Juan
Ramos, Manuel
Riley, William Russell
Rodrigues, Richard F.
Rowe, John R.
Santos, Pablo R.
Sarsosa, Jose
Scholtz, William K.
Tenebre, Rufo
Thomas, Moses
Tingking, Paustino
Tom, George B.
Turner, George M.
Unuivi, Henry K.
Valent, Manuel G.
Viera, Frank C. Jr.
Waialeale, James
Waihoikala, Levi
Watson, Clarence J.
Withington, David L.
In U.S. Navy Service
Auerbach, Paul H.
Bal, Archibald
Char, Frederick
Fuller, Edward
Gouveia, Manuel Jr.
Graham, Ivan Mantrose
Kaaukea, Herman
Kana, John
Kauhane, Ralph J.
Raymond, Frank
Silva, John A.
Warren, Charles F. A. Jr.
In British Military Service
Blackwood, F. S.
Bryant, James H. R.
Cameron, Kenneth
Churchill, B. Clair
Collie, Alexander
Davies, Henry L.
Douglas, J.
Fogarty, H.
French, John Scott
Jones, Edward
Leander, R. L.
Llewellyn, Ted
Mackenzie, Robert G.
Maclean, Norman
May, James P.
Miller, James Arthur
Potter, Gideon
Sharp, Robert
Turner, Gordon
Turner, John
Usborne, Claude O. H.
Williams, Thomas P.