Kelvin Taketa Named 2017 KAMA'ĀINA OF THE YEAR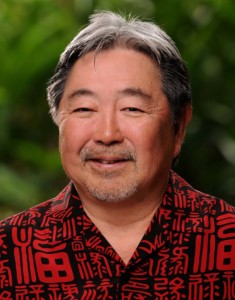 Kelvin is chief executive officer of the Hawai'i Community Foundation—the largest foundation in the state that works to transform lives and improve our communities.
Since his appointment in 1998, the Foundation has become the leader in facilitating charitable investments in Hawai'i and has earned distinction as a trusted community resource on charitable trends and best practices in Hawai'i.  In addition, the Foundation has launched several major initiatives with a coalition of local and national funders and government agencies to address critical issues and developed grant programs that have proven results and led to national recognition for the Foundation.  In 2015, the Foundation administered more than $50 million for programs and initiatives in Hawai'i.
Prior to his role at Hawai'i Community Foundation, Kelvin helped found The Nature Conservancy of Hawaii as its Executive Director and then managed the fundraising, government relations and communications functions for The Nature Conservancy (TNC), the largest conservation organization in the world, out of its headquarters in Washington, DC.  He then led the creation of TNC's programs in the Asia/Pacific region.
Kelvin has served on numerous corporate and nonprofit boards including his current service on Hawaiian Electric Industries, Hawaiian Electric Company, the Hawaii Leadership Forum and the Stupski Foundation in San Francisco.  He has previously served on the Board of Grove Farm on Kaua'i and the Independent Sector in Washington, D.C.
A national leader and commentator about philanthropy and non-profit organizations, Kelvin has been selected by The Non-Profit Times as one of the "50 most powerful and influential people" in the sector in both 2010 and 2016.
About KAMA'AINA OF THE YEAR™
Historic Hawai'i Foundation (HHF) annually honors individuals or organizations who have contributed to preserving Hawaii's rich history and perpetuating the essence of Hawai'i.  The Kama'aina of the Year program honors community members and organizations who have made unique and lasting contributions to the preservation of Hawaii's historic places and culture.  The event furthers Historic Hawai'i Foundation's mission to preserve and encourage the preservation of historic buildings, objects, sites and communities.  The Kama'aina of the Year benefit is Historic Hawai'i Foundation's annual fundraising event and accounts for a significant portion of its annual operating budget.
Past Honorees:
2016 Lynne Johnson and Randy Moore
2015 Neil Hannahs
2014 Steven Ai and Carol Ai May
2013 Tim Johns
2012 Senator Daniel K. Akaka
2011 Herb Kawainui Kane
2010 Princess Abigail Kawananakoa
2009 Daniel K. Inouye & Irene Hirano Inouye
2008 Bert & Susan Kobayashi
2007 Richard Kelley & Jeanne Rolles
2006 Sam & Mary Cooke
2005 Washington Place
2004 John Morgan
2003 Oz Stender
2002 Thurston Twigg-Smith
2001 Moana Hotel
2000 Alexander & Baldwin
1999 Ed Carter
1998 Helen Cole
1997 C. Dudley Pratt, Jr.
1996 Waikiki
1995 Chinatown
1994 Kakaako
1993 Peg & Bill Paty
1992 Joan & Kenny Brown
1991 Herman Von Holt
1990 RJ "Bobby" Pfeiffer
1989 Irmgard Farden Aluli
1988 Abraham Akaka