Site Visit Reveals a Community Steeped in History and Pride of Place
February 19, 2017
Kaupō, located on the remote southeastern end of Maui, has a population of about 100 full-time residents but is embraced by thousands of visitors who pass by on the route between Hāna and Haleakalā National Park in Kīpahulu.  The residents are mostly descendants of Kanaka Maoli (Native Hawaiians) whose families have lived in this area for countless generations.  This is off-the-grid territory.  The stars are brilliant on clear nights as power lines do not exist out here.
As one can imagine in such an exquisitely beautiful and remote place, community is small and tight. One could almost imagine the phrase "it takes a village" written for this special place.  The Kaupō Community Association's (KCA) mission—to preserve the natural beauty, environmental resources and rural lifestyle of the Kaupō community—fits well into this terrain.
Central to this place is Kaupō School, which is steeped in history.  Since its establishment in 1887, the school has served as the only government institution in a remote, isolated landscape. The two-room classroom building and associated Teacher's Cottage were built in 1922-23. Keiki learned Hawaiian first here, along with other skills such as fishing, hunting and horseback riding. The school is significant to this remote community as both a gathering place and a link to the ranching and agricultural culture of Kaupō.
Kaupō School is listed on the National Register of Historic Places (https://historichawaii.org/2014/03/03/kaupo-school/).
The community's wish is to rehabilitate both the classroom building and the teacher's cottage into a community center and a shelter to provide safety during storms, floods, earthquakes and other emergencies.  With this in mind, the Kaupō Community Association has taken steps forward to reach this goal. The preservation project is supported by a Grant In Aid from the Hawai'i State Legislature of almost $1,000,000, matched by County of Maui funds ($20,000) and a preservation grant through Freeman Foundation's partnership with Historic Hawai'i Foundation ($70,000). The HHF funds also bring technical assistance in applying the standards and criteria for adaptive reuse of historic buildings.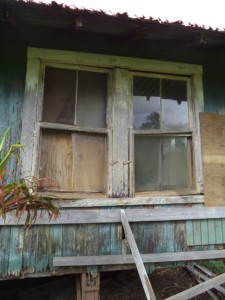 Historic Hawai'i Foundation is deeply appreciative and impressed by the community efforts to save an important piece of its history and to continue to make it relevant and useful for current and future generations.
The scope of work for the Kaupō School preservation project was developed for this community specifically. Other historic schools have also been rehabilitated and adaptively reused for new purposes, such as Waimea Elementary School Building N (Kamuela, Hawai'i Island) into the Isaacs Art Center and Hanalei School (Hanalei, Kaua'i) into a retail center. Ke'anae School (Maui) is also working to establish a cultural center with a community emphasis. Each of these projects is unique, and each was based on the needs of its community and local support. The Kaupō School project is an inspiring example of community support, engagement and creativity.
What is most fascinating about this entire evaluation and review process is the way in which it is galvanizing and inspiring the Kaupō community to revisit its roots and revitalize its identity.  The KCA has been a strong leader in these efforts and has rolled out some great initiatives, including a community watch program and the Kaupō School History Project documenting oral histories of local kūpuna.  Along the way, relationships with state and local government, individuals and related community organizations have been forged and strengthened.
The project and the community effort are clearly significant for Kaupō, but also serve as an example of what is possible through many people working together to save a place they love. We hope other communities will see these efforts and recommit to the special places in their own areas.
We recently visited Kaupō to meet the community and see firsthand the state of the buildings and learn more about plans to rehabilitate them.  During the meeting, we conducted a writing exercise in which a poem is created from a series of individual lines written by participants.  We asked the community to think about what Kaupō School means to them and then share it in one line.  There were some 60 people present, ranging in age from about 7 (excluding the babies and preschoolers) to 92. The collaborative result appears below.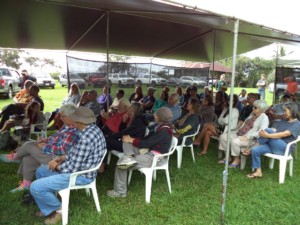 Kaupō Community Association Poem for the Kaupō School & Teacher's Cottage
February 11, 2017
Voices of the past echo
I went to Kaupō School in 1957
I attended Kaupō School in 1930
I remember my Mom saying she belonged to the Bee Club
Kaupō stories and memories mix with our life here; In Kaupō
The past, today and future are one
It's our kuleana to mālama this wahi pana
School of the past, school of the future
Vibrating the mana of laughter & play
Raw, washed, weathered, distressed
Gentle rainy days
The gleam of waterfalls
I love this place
It fills me up with life
The Heart of Maui
And new buildings for the voices of yesterday & tomorrow
Gentle rain, planting seeds, connecting the past & future
Great yard for joyful children
Kaupō I ka mālie
Kaupō the beauty of the mountains
The Big Island looming in the distance
Pu'u Honua (Safe Haven)
Kūpuna keeping watch
On gray green walls
Your beauty moves me
The history written in your walls
Tells a story that moves us all
The mana of the 'āina is uinani
Kaupō – a place well deserved to be preserved
Riding horses bareback on the gravel road
Early morning bees buzzing, shoreline crashing
Breaking the silence of everlasting calm
Relic of the past, guide to future
Planted in time, colored by history
The gifts from the past guide us into the present
And the beauty and wonder of Kaupō blesses us
Maua Valley at the foothills of Kaupō Gap
Smiles and seats its aloha to the people of its community
A happy teacher we need the most
I hear the sounds of children at recess
I can't wait to return to a restored school and cottage
Location, location, location
What will the layers of habitation reveal
We the people of Kaupō are ready to pour our hearts & souls into this endeavor
With aloha we greet the sun and the rain
Kaupō mahalo
Remember the water, Remember the trees