9/12/17 – The Latest on the US Postal Service's Proposed Plan to Relocate Operations
On June 23, 2017, the United States Postal Service issued a letter to Līhu'e Mayor Bernard P. Carvalho Jr. noting that the USPS has decided to return for another public meeting to more fully explain the proposed relocation and have a new discussion with the mayor and community.
A new public meeting has been called and will take place on October 11, 2017 at 5:00 p.m. at the Kaua'i War Memorial Convention Hall Exhibition Room, 4191 Hardy Street in Līhu'e Street.  See below for copies of the public meeting notice and the June 23 letter to Mayor Carvalho.
Please check back for more information and advocacy suggestions.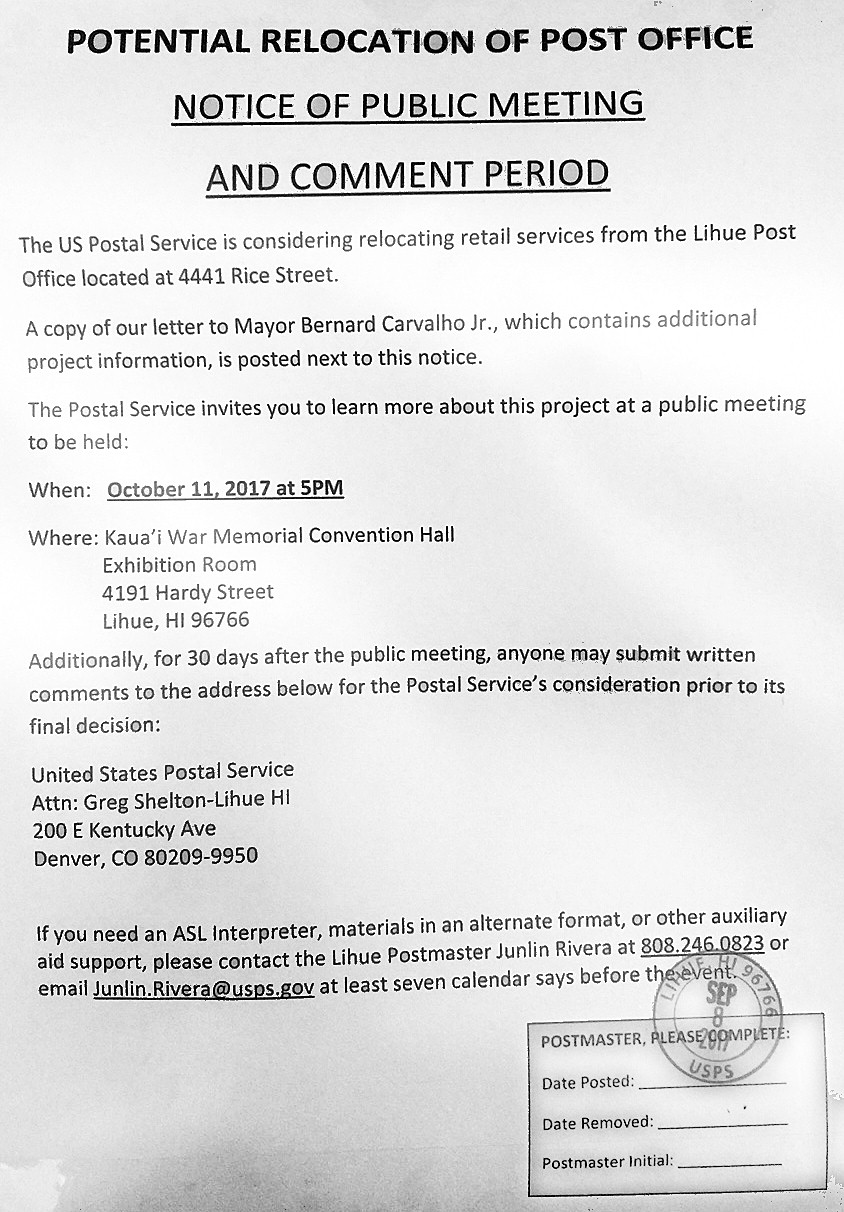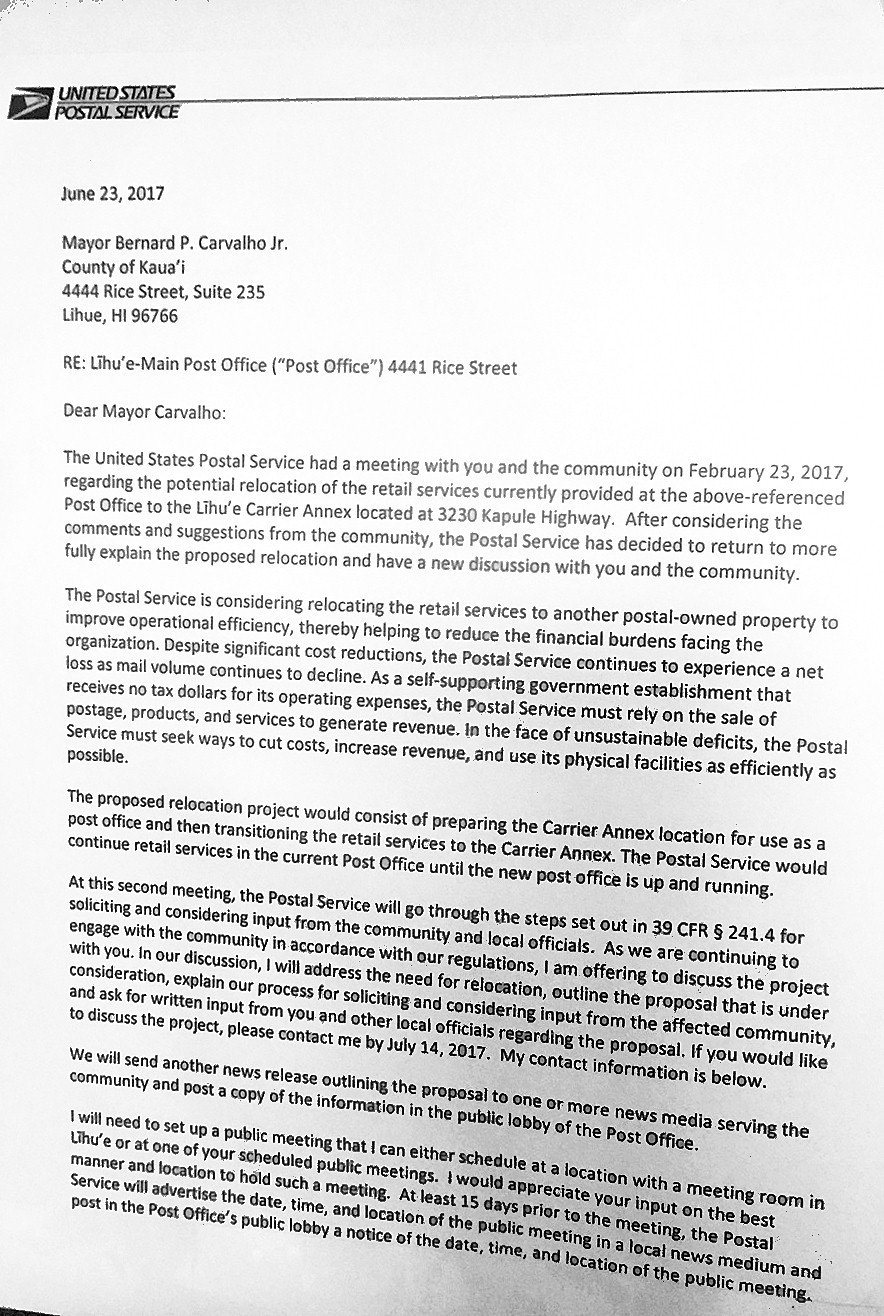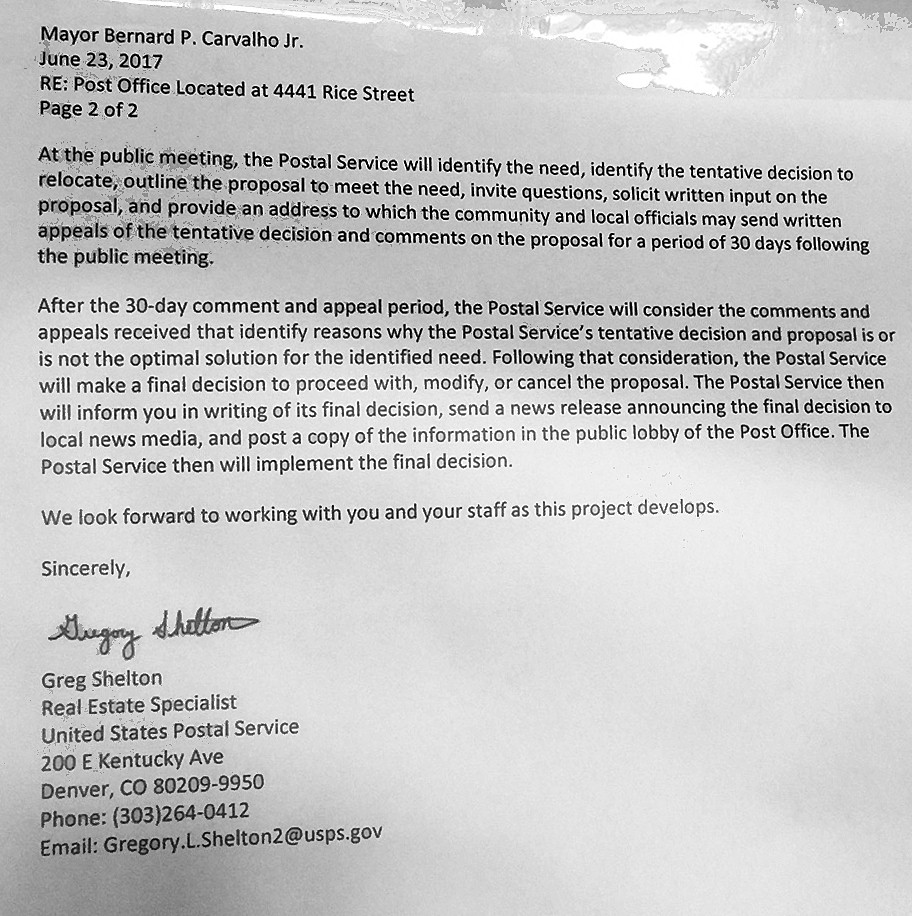 4/27/17: Update on the Campaign to Save Lihue Post Office 
What Happened
On April 27, 2017, the United States Postal Service issued an announcement that it has decided to redo the regulatory process related to the proposal to relocate the retail operations of Lihue Post Office from its current location on Rice Street to its Lihue Carrier Annex facility at 3230 Kapule Highway.
In a letter also dated April 27 addressed to Kauai Mayor Bernard Carvalho, Jr., Tom A. Samra, V.P., Facilities, for the United States Postal Service, noted, "I reviewed the concerns you and others in the Lihue community have expressed, and I determined that the Postal Service should redo the regulatory process to better inform elected officials and the community of the Postal Service's need for relocation and to better explain the proposal to meet that need."
What This Means
This means the entire process will begin anew.  There will be a new comment period and/or another community meeting according to the announcement.  Essentially, we will need your heroic efforts to make your voice heard in favor of keeping Līhu'e Post Office open, once again. We'll keep you "posted" and let you know when you need to act.
What You Can Do
Sign up for our E-news and/or email outreach@historichawaii.org to join our Advocacy Alert lists to stay informed.
Mahalo for your tremendous efforts and enthusiasm thus far!

Līhu'e Post Office Under Threat of Closure – See Update Below on How You Can Help

HHF joined the County of Kaua'i, Lihu'e Business Association, National Trust for Historic Preservation and hundreds of local residents and business owners in opposing the move and "disposal" of the post office. The preservation campaign included getting the word out about the threatened closure via door-to-door canvassing, urging attendance at the public meeting, press alerts and social media exposure. About 150 people attend the public meeting in late February.
The video below created by a team of students from Chiefess Kamakahelei Middle School, documents the process. It will be part of the PBS Hawai'i "HikiNo" series.
What is it?
The first stand-alone post office on Kaua'i built in 1939.  The original proposed design, a Depression-era mission-style fortress, was met by a storm of protest by Kaua'i citizens led by postal engineer Floyd Williams, who successfully championed a redesign. The revised design was the architecturally popular Spanish mission revival style prevalent in the 1930s. The post office is one of 3 Mediterranean-style buildings in the town core constructed during that decade.
It took 10 years from the time territorial senator Charles Rice introduced a resolution to the U.S. Congress to provide funds for a new post office until Līhu'e Post Office's dedication in 1939.  According to members of the business and local community it is an integral part of life in Līhu'e and complements efforts to enhance and grow a walkable downtown area.
What Threatens it?
Closure of Līhu'e Post Office was announced via a Public Notice posted on January 23 in the lobby of the building located at 4441 Rice Street.  The notice solicited public comments on a proposal to end postal operations at that facility. A follow-up message later clarified that the proposal being considered is to consolidate USPS retail operations currently located at 4441 Rice Street with our USPS Carrier Annex facility at 3230 Kapule Highway.
Why Does it Matter?
"The Lihue Post Office is an extremely important historic building in our town and for our island heritage. It also is an integral component in our work to enhance a walkable livable community in Līhu'e," said Pat Griffin, the immediate past Chair of the Kaua'i Historic Preservation Review Commission, President of the Līhu'e Business Association and HHF Board Member.  "It's a well-preserved example of a small single-purpose post office, is still in excellent condition and well used today."
Pat said the post office is a key part of the revitalization plan. "If postal services are moved to the USPS facility adjacent to the airport, people will no longer be able to walk to the post office," Griffin said. "They'll have to get into cars and onto Kapule Highway. Such a location change is old-style thinking, exactly opposite of today's accepted planning practices."
Līhu'e Post Office is on both the Hawai'i State Register and the National Register of Historic Places.
6 THINGS YOU CAN DO

Be part of the grassroots campaign!
Below are 6 Actions you can take to let the USPS know you want the historic post office to remain a vibrant mainstay of downtown Lihue. 

1.  Volunteer with the Campaign – canvass for the cause in Lihue or Honolulu.  Call 808-523-2900 to learn more.
2.  Attend the Public Meeting on February 23, 6:00 p.m., at the
Kauai War Memorial Convention Hall, Exhibition Room, 4191
Hardy Street, Lihue and let the USPS know you want the Lihue
Post Office to stay open. More than 150 people attended. THANKS TO ALL WHO CAME OUT!
3.  Send a message to the Postmaster General:
Click here to take action online.
4.  Contact our federal and state officeholders and ask them to keep Lihue Post Office open. (Tip: if emailing, write your best plea then cut and paste and send to each.)

US Senator Mazie K. Hirono, 202-224-6361, kauai@mazieforhawaii.com
US Senator Brian Schatz, 202-224-3934, Malia_Paul@schatz.senate.gov
US Representative Tulsi Gabbard, 202-225-4906, TulsiOffice@mail.house.gov
Gov. David Ige, 808-536-0084, carrice.gardner@hawaii.gov
HI Senate Pres. Ronald Kouchi, 808-586-6030, senkouchi@Capitol.hawaii.gov
HI Rep. James Kunane Tokioka, 808-586-6270, reptokioka@Capitol.hawaii.gov
HI Rep. Nadine K. Nakamura, 808-586-8435, repnakamura@Capitol.hawaii.gov
HI Rep. Dee Morikawa, 808-586-6280, repmorikawa@Capitol.hawaii.gov
5. Write the designated USPS contact (see sample letter and mailing address below):
6.  Post a selfie showing you care.
Write "Save Lihue Post Office" on a paper and take a selfie
with it. Post to social media & encourage friends to do the same using hashtags:
#SaveOurPostOffice   #ThisPlaceMatters   #WhyICare
Include a line about why you care.
NOTE: Written comments must be received by March 25 and can be mailed to: 
United States Postal Service
Attn: Dean Cameron
1300 Evans Avenue, Suite 200
San Francisco, CA  94188
SAMPLE MESSAGE FOR WRITTEN COMMENTS:
The Postal Service has announced its plan to relocate services from the historic Lihue Post Office on the island of Kauai in Hawaii. The New Deal-era building has been a mainstay of downtown Lihue since it was built in 1939 and remains a key component of its economically vibrant historic core. I am opposed to the plan and ask that you keep our historic post office open.
Sincerely,