Announcing the 30th Annual Free Lunchtime Lecture Series featuring "Experts at the Cathedral"
Winter 2017, January 26-March 2
The tradition continues! This year's theme is "House Museums and Their Role in Preservation and Education."
The free weekly lunchtime lectures will be held on Thursdays from January 26 – March 2, from 12-1 p.m. at St. Andrew's Cathedral, Von Holt Room, 229 Queen Emma Square, Honolulu
This year's sessions include:
January 26: Teresa Valencia, Curator, 'Iolani Palace, "'Iolani Palace: Challenges and Opportunities in the Care and Interpretation of Historic Homes"
February 2:  Dr. Thomas Woods, Hawaiian Mission Houses Historic Site and Archives, "Mission Houses: The Improbable Partnership Between American Protestant Missionaries and Hawaiian Ali'i"
February 9:  Paige Donnelly, Associate Curator of Programs, Shangri La, A Museum of Islamic Art, Culture & Design, "Programming at Shangri La: New Approaches to Curation"
February 16: Mahealani Bernal, Docent Coordinator, Daughters of Hawai'i, "Queen Emma Summer Palace: New Directions in Curation and Interpretation"   Changed to House Museums, Here & Around the World. What are They? What Makes them Unique? Presented by Dr. William Chapman, Director of the Historic Preservation Program, Department of American Studies, University of Hawaii at Manoa.
February 23: Robert Liljestrand, Principal and Director, Liljestrand House, "The Liljestrand House: Preserving a Mid Twentieth-Century Masterpiece"
March 2: Jenny Eagle, Education Director, and Jenny Leung, Collections Manager, Mānoa Heritage Center,  "Master Campus Planning: Integrating Kuali'i and Mānoa Heritage Center"
The annual series is sponsored by the Historic Preservation Program, Department of American Studies, University of
Hawai'i at Manoa; the Friends of 'Iolani Palace; and Historic Hawai'i Foundation.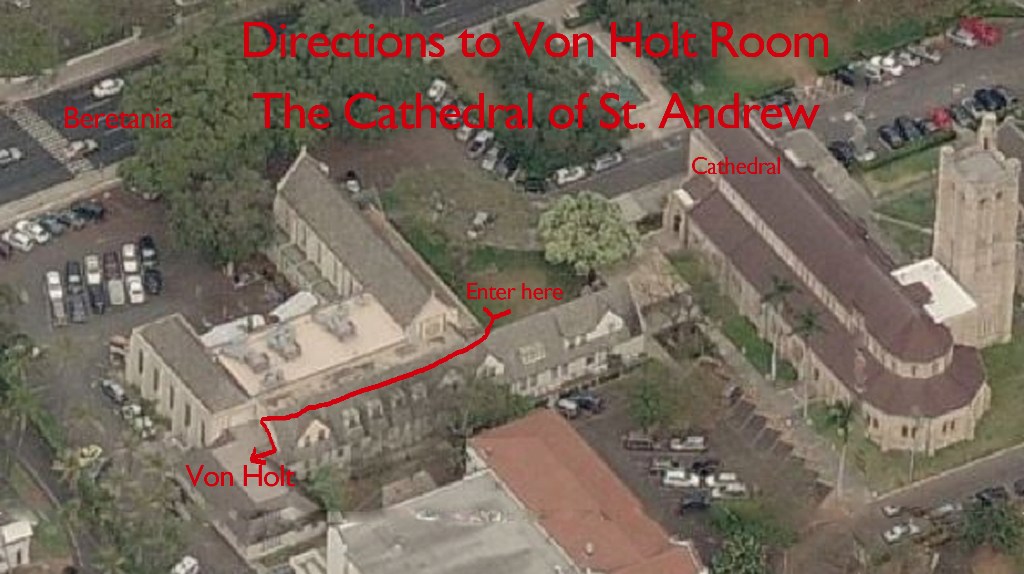 Stop by on your lunch hour and feel free to bring a brown bag lunch.
Click here for a map of the venue location.
PARKING: Metered parking is available near Iolani Palace. Parking is also available at the Alii Place Parking Garage located at 1099 Alakea Street near the Hotel Street intersection ($3 for 2 hours) and in the St. Andrew's public parking lot ($12 for 2 hours).
Open to all.  Reservations are not required.