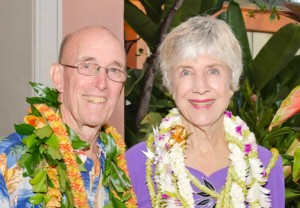 Historic Hawai'i Foundation is pleased to announce that Lynne Johnson and Randy Moore were honored as the 2016 Kama'āina of the Year™. The event was held on Saturday, October 1, at 6 p.m. at the Royal Hawaiian, a Luxury Collection Resort in Waikīkī.
For 29 years, Historic Hawai'i Foundation has recognized individuals who have contributed to preserving Hawaii's rich history.  The Kama'āina of the Year™ award presentation occurs at Historic Hawai'i Foundation's annual fundraising event, now in its 41st year. The benefit furthers HHF's mission to preserve and encourage the preservation of historic buildings, objects, sites and communities significant to the history of the Hawaiian Islands.
Lynne Johnson is a lecturer in musicology at the University of Hawai'i at Mānoa. She serves as a trustee on the boards of the Mānoa Heritage Center, Honolulu Museum of Art and Hawai'i Opera Theatre.  Through her community service with these organizations, Dr. Johnson has been a strong supporter of art, culture, history and preservation in Honolulu.
Randolph G. Moore is a retired business executive, middle school teacher and Department of Education administrator. He currently serves on the Board of Regents for the University of Hawai'i. Mr. Moore held executive positions with Kāne'ohe Ranch, Moloka'i Ranch and Castle & Cooke. After retirement, he taught mathematics at Central Middle School, then transferred to the Department of Education, working as assistant superintendent for school facilities and support services.
The couple was recognized in honor of their community service to Hawai'i, including commitments to enhancements and improvements in arts and culture, land stewardship and educational sectors. The Kama'āina of the Year event will feature themes of community engagement and involvement.
Documentary filmmaker Robin Lung eloquently captures the grace, elegance and spirit of service Lynne and Randy exude in all of their good works in their Kama'āina of the Year video.  Watch the 10 minute video here.
Table Sponsors
HOAPILI/FRIEND
Lynne Johnson &
Randolph Moore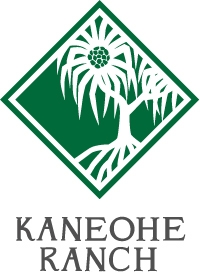 KĀKO'O/PATRON
Alexander & Baldwin, Inc./Grace Pacific LLC
Allied Builders System
Castle & Cooke Hawaii
Cultural Surveys Hawai'i, Inc. (2 tables)
DAWSON
First Insurance Company of Hawai'i, Ltd.
Hawaiian Electric Companies
The Howard Hughes Corporation
Kamehameha Schools
Kyo-ya Hotels and Resorts
Marquesa Kapiolani Marignoli
Mason Architects, Inc.
The Queen's Medical Center
KŌKUA/BENEFACTOR
Bishop Museum
Catherine Cooke
First Hawaiian Bank
Goodsill Anderson Quinn & Stifel
Group 70 International
Haleakalā Ranch Company
Hawai'i National Bank
Honolulu Museum of Art
Hunt Companies
KAI Hawai'i
Matson
Wendie McAllaster & Anna Grune
Minatoishi Architects
Monarch Insurance
Outrigger Enterprises
PBR Hawaii & Associates, Inc.
Pūlama Lāna'i
Punahou School
Sarah Richards & Maggie Walker
R.M. Towill Corporation
Schlack Ito
UH-Mānoa Hawai'inuiakea School of Hawaiian Knowledge/UH-Mānoa College of Arts & Humanities
University of Hawai'i System
United Laundry Service
WCIT Architecture
Wilson Okamoto Corporation
Young Brothers
Donations
HOAPILI – $10,000+


KĀKO'O – $5,000+

International Market Place
KŌKUA – $3,500+

Deloitte Touche LLP
Kaonoulu Ranch
Todd & Seabolt, LLC
MĀLAMA – $1,000

ABC Stores
Armstrong Builders
Aukahi LLC
Patsy & Robert Bunn
Jean Campbell
Michael Gibson
The Gentry Companies
Halekūlani Corp.
David & Nery Heenan
Pat Griffin & Tommy Noyes
Grove Farm
Floria Komer
Kuiwalu Consulting
Maui Architectural Group
Coralie Matayoshi
Niu Pia Land Co. Ltd.
Philpotts & Associates, Inc.
Peter Tsukazaki
Shelley Wilson
IN-KIND CONTRIBUTORS
Big Island Candies
Bishop Museum
Blue Note Hawaii
Jean Campbell
DFS Group Limited, Hawai'i Division
Diamond Head Theatre
Duke's Canoe Club
The Fairmont Orchid
Soleil Fusha
Grand Wailea, a Waldorf Astoria Resort
Halekūlani Hotel
Hans Hedemann Surf, Inc.
Hawaii Gas
Hawaii Potters' Guild
Hawaii Theatre Center
Hawaiian Airlines
Hawaiian Electric Companies
Hilton Waikoloa Village
Honolulu Museum of Art
Honolulu Theatre For Youth and Via Gelato
Elisabeth Iwata
Kaanapali Beach Hotel
Kahuku Farms
Kealopiko
Kīlauea Lodge
Ko`olina Golf Club
Kumu Kahua Theatre
Laka Skin Care & Spa
Malie Organics
Marriott Resort Waikoloa Beach Resort & Spa
Maui Divers Jewelry
Mauna Kea Beach Hotel
The Mauna Lani Bay Hotel and Bungalows
Moana Surfrider
The Modern Honolulu
Jim Niess
Paiko
Polynesian Cultural Center
Jon Rawlings
Roy Sakuma Productions, Inc.
Royal Kona Resort
Sea Life Park
Sheraton Waikiki/Kyo-ya Management Co.
Sony Open in Hawai'i
Tamura's Fine Wine & Liquors
Trump International Hotel Waikīkī  Beach Walk
Via Gelato
Waimea Valley
Wet 'n' Wild Hawaii
Young Brothers
SPECIAL MAHALO

Maenette Ah Nee-Benham
The Royal Hawaiian, A Luxury Collection Resort
Paradise Beverages
Simon Crookall, Erik Haines, Leslie Goldman McInerny, Blythe Kelsey & Stephen Strugnell of Hawai'i Opera Theatre
Constance Uejio, Hawai'i Symphony Orchestra
Hawai'i Youth Opera Ho'okahi Ensemble
John Mount, Thomas Trotter & Larry Paxton of UH Mānoa College of Arts & Humanities
PSAV
Mark Taketa, Charles Taketa Graphic Design
Minatoishi Architects
BK Photo
Blake Entertainment
Robin Lung, Nested Egg Productions