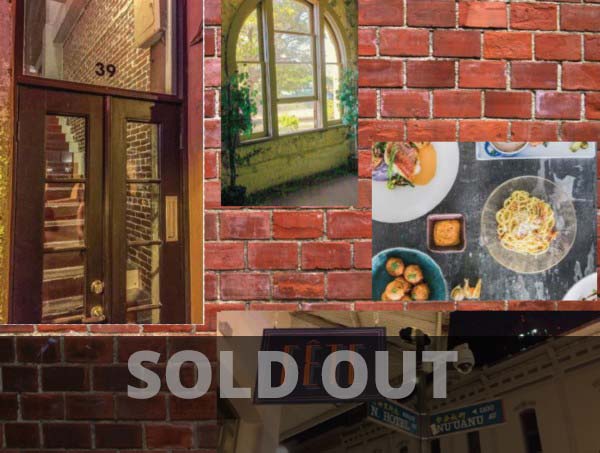 On a calm summer evening, 80 lucky guests and our staff and volunteer team explored the remarkable history, architecture and modern ingenuity of the local Chinatown scene from the second story. We saw the sites and heard the challenges and benefits of reworking the spaces from the owners. With so much happening at street level it's easy to see why so few know about the hidden charms of upstairs venues. Our tour included 5 venues paired with delectable eats from 4 local eateries. Mahalo nui to our co-sponsor, Chinatown Improvement District, and our volunteers, building hosts and food vendors who helped to create a truly unique experience: Tita and Lee Stack, Mat D'Ascoli, Pegge Hopper, Celine Casamina of ROC, Dusty Grable, Epic, Fete, Senia and Tchin Tchin!
Historic Hawaii Foundation & Chinatown Improvement District present:
Chinatown Upstairs: An Exclusive Discovery of History, Architecture & Food
Thursday, June 23, 2016
5:30pm-8:30pm
Learn more about how Honolulu Chinatown, a mixed use urban historic neighborhood, is creating a vibrant and diverse community of businesses on the second floor of historic buildings.  See examples of adaptive re-use projects, learn about the architecture and history from event docents along with the current owner or business owner's insights into renovation of the building and space.
The evening will include an exploration of 5 upper levels in historic Honolulu Chinatown buildings with docent-led tours and small plates from partner eateries.  The tour will include one restaurant, two private loft spaces, and two co-operative office spaces.  Small tasting plates will be provided at four of the locations by: Chris Kajioka, Epic Restaurant, Fete, and Tchin Tchin.
Cash bar at two of the locations.
Click here to purchase tickets:

$65 Historic Hawaii Foundation Members
$80 General Admission  (Not yet a member?  Click here to join and be immediately eligible for the member-price event ticket.)
THIS EVENT IS LIMITED TO 80 GUESTS.        Download the flier.

Meet at Tchin Tchin (39 Hotel Street) at 5:30 p.m. to check in.
NOTE:  The tour will include walking, several sets of stairs to navigate, uneven paths and walkways and certain areas that are not handicap accessible.
Mahalo to our Event Partners:
Chris Kajioka, Collaborative Studio,
Epic, Fete, Mat D'Ascoli, Pegge Hopper,
Real Office Centers, and Tchin Tchin
All proceeds benefit the programs & services of Historic Hawaii Foundation