Successful preservation efforts begin with community engagement.
At our April event we learned about the history of our urban parks and the worldwide playground movement and Mother Waldron and her namesake park. Our presenters also broached the subject and significance of open space in an urban environment.
After the formal presentations we broke into groups, dug deep and answered some questions:
1. Are historic parks and open spaces relevant to you and, if yes, what makes them so?
2. What would you like to see more of in terms of open spaces in Honolulu (i.e., community gardens, parks, access to the coast, etc.)?
3. What are some of the challenges facing our open spaces in Honolulu?
4. Are you involved in stewarding Honolulu's parks and other open spaces?
Take a peek at the photos where you can find some of the answers. Mahalo nui loa to our presenters:  Wendy cAllaster, HHF Planners; Adele Balderston, UHERO and Annie Koh, UH Department of Urban & Regional Planning (both Adele & Annie were instrumental in the creation of the Kakaako Our Kuleana series).  Mahalo too, to our event co-sponsor, Tina Aiu and the Hawaiian Islands Land Trust & Stanford Carr for providing a perfect venue.
The event was followed by a park clean-up at Mother Waldron led by the Halekauwila Place Apartments management team.
Historic Urban Parks Presentation & Talk Story
Saturday, April 9, 2016 \ 9:00 – 11:00 a.m.
Free & open to the public*
Halekauwila Place Apartments Community Room
665 Halekauwila St, Honolulu, HI 96813
LEARN about the history and significance of Honolulu's historic parks (Mother Waldron Park, Ala Moana Park, Irwin Park, Walker Park and Thomas Square), and their relevance as community gathering places today.
EXPLORE the concept of urban open space.
SHARE history and mo'olelo about the role these parks play in the community and why they matter.
Light refreshments will be served.
Optional: Monthly park clean-up at Mother Waldron Park from 11:00 to 12:00 p.m.
Sponsor/Partners: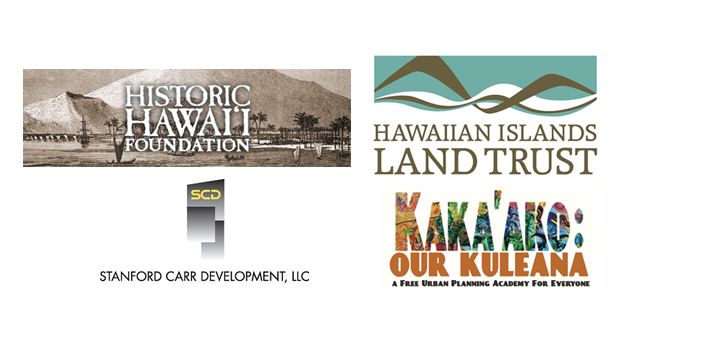 Helping People Preserve Historic Places.
HHF is the only statewide non-profit organization dedicated solely to preserving the historic buildings, sites, communities and objects that tell the unique stories of Hawai'i's multilayered history. Founded in 1974, HHF has become the driving force behind historic preservation in the state through its core programs of developing a community ethic of historic preservation, supporting smart legislation, offering educational events and training for local communities and providing technical assistance to make preservation accessible
Our mission is simple: To protect the lands that sustain us for current and future generations.
Our promise, audacious: Perpetuity.
Stanford Carr Development, LLC:
Our Reason for Being: Founded in 1990, our mission is to develop quality residential communities, commercial projects and special needs housing that achieve strong market acceptance and provide long-term value.
Kaka'ako our Kuleana – A Free Urban Planning Academy for Everyone:
was a free workshop series open to the public to learn about the development issues in Kaka'ako and to engage in innovative place-making ideas for Kaka'ako's future. The series organizers who hail from the University of Hawaii at Manoa Department of Urban and Regional Planning, will present a segment at this event.
______________________________________
Frequently Asked Questions:

Where are the Halekauwila Place Apartments located?
665 Halekauwila Street in the Kaka'ako neighborhood of Honolulu between Keawe and Cooke Streets.
Click here for directions from your location and see the map below.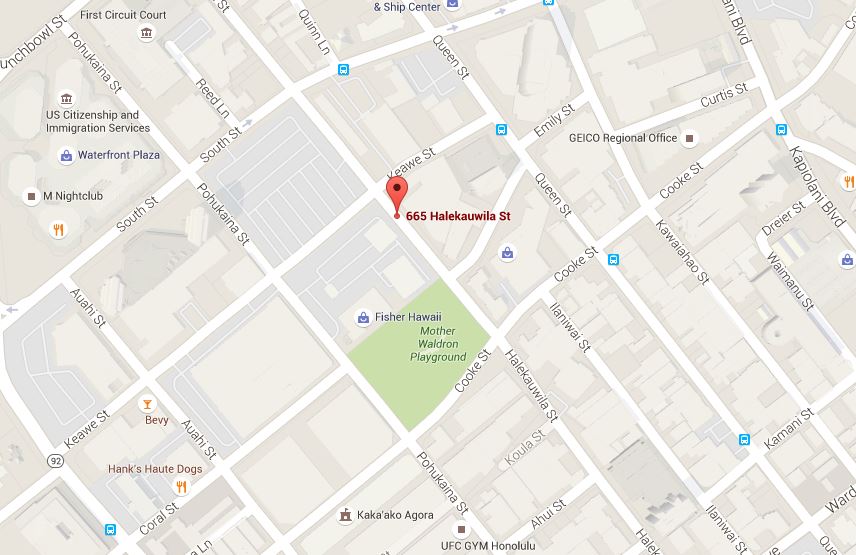 Where can I park?
Halekauwila Place Apartments parking garage.  The first floor will be open for the event for free public parking. If that is filled, there is additional street parking near the apartments and around the area of Mother Waldron Park.
Do I have to sign up for the clean-up?
No. Just stay after the presentation and talk story are over.
What can I bring to the event?
Yourself.  If you plan to stay for the park clean-up everything you need will be provided.
Where can I contact the organizer with any questions?
You may contact Historic Hawaii Foundation with any questions related to the event.  Please call 808-523-2900 or email outreach@historichawaii.org.