2/19/15: President Barack Obama has designated the former Honouliuli Internment Camp site on Oahu as a national monument, ensuring its future preservation.
Opened on March 1, 1943, Honouliuli was the longest operating and largest World War II internment and prisoner of war (POW) camp in Hawaii.  Built on 160 acres in west Oahu, the camp site was hidden from view in a deep gulch that the internees called jigoku dani, or "hell valley."
Following the Japanese Empire's attack on Hawaii on December 7, 1941, President Franklin D. Roosevelt issued Executive Order 9066 in February 1942. This order authorized the exclusion of persons of Japanese ancestry from the entire Pacific coast. Citizens with as little as one-sixteenth percent of Japanese blood were placed in internment camps. Without judicial process, nearly 120,000 Americans of Japanese ancestry were detained in War Relocation Authority Camps and Department of Justice Internment Camps; over 3000 of those detained were Hawaii residents of Japanese ancestry. On January 2, 1945, the exclusion order was revoked entirely and the internees began to leave the camps to rebuild their lives.
The Honouliuli Internment Camp was constructed on Oahu to intern citizens, resident aliens, and prisoners of war.  The camp held approximately 320 internees, mostly second-generation Japanese Americans but also Japanese, German and Italian permanent residents who were living in Hawai'i.  Honouliuli was also the largest POW camp in Hawai'i, incarcerating nearly 4,000 individuals.  In total, during World War II, over 2,300 Japanese American men and women from Hawai'i were incarcerated, including many prominent community leaders, teachers, journalists, religious leaders, local politicians and World War I veterans.
The impetus to preserve Honouliuli  gained momentum in 2009, when then-Senators Daniel K. Inouye and Daniel K. Akaka introduced a bill to determine if World War II internment campsites in Hawai'i may be eligible for listing as "units of the National Park System." Then-Congresswoman, now Senator, Mazie Hirono introduced a companion bill in the House of Representatives, also supported by then-Congressman Neil Abercrombie.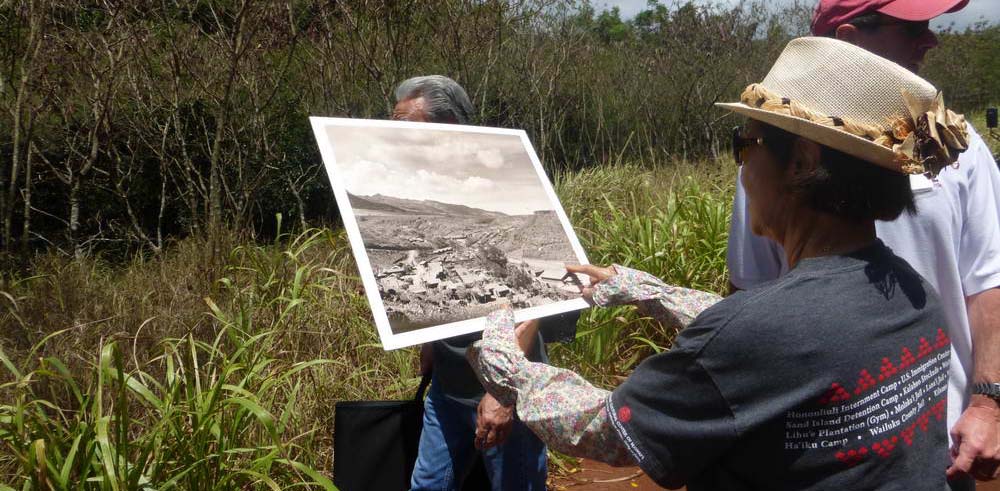 "The detention of more than 1,000 innocent Hawaii civilians during World War II remains a dark chapter in Hawaii and our nation's history. The stories of those detained at Honouliuli and internment sites like it across the country are sobering reminders of how even leaders of the greatest nation on Earth can succumb to fear and mistrust and perpetuate great injustice," said Senator Hirono. "The President's executive action is an important step in protecting Honouliuli and the stories of those who were detained in our state and across the nation, highlighting an important but often forgotten piece of our national history. Preserving the site has long been a priority for our Hawaii delegation — from Senators Inouye and Akaka to our current delegation. I will continue to work closely with the administration, state and local leaders as well as my delegation colleagues to ensure federal resources are delivered for this important project."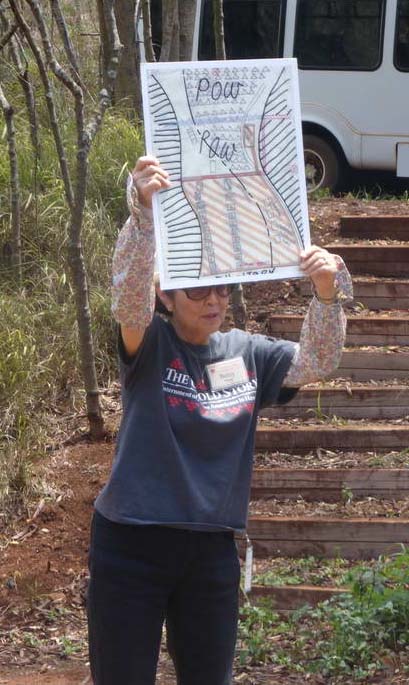 Support for the designation grew over the spring and summer, when the National Park Service held a series of community meetings throughout Hawai'i to present their initial findings of a federally-funded study of the site, and invited attendees to offer comments and ask questions. Historic Hawaii Foundation is a member of the grassroots coalition that has worked on the preservation and visioning plan for the site, led by the Japanese Cultural Center of Hawaii, and with the strong participation of the Hawaii State Historic Preservation Division, National Park Service, Honolulu Japanese American Citizens League, UH West Oahu, Monsanto, and representatives of the Hawaii State Legislature and Honolulu City Council.
"As a new national monument, Honouliuli will be a great gift to our state and nation.  On behalf of the Japanese American internees and their families, I want to thank President Obama for vindicating the honor of those who were incarcerated and for recognizing the historic site as a lesson in injustice and forgiveness for all Americans and for future generations," said Carole Hayashino, the President and Executive Director of the Japanese Cultural Center of Hawai'i.
"The Honouliuli Internment Camp is an incredibly significant historic site with both local and national significance," said Kiersten Faulkner, executive director of Historic Hawaii Foundation. "It provides information about an important era in the history of the United States and Hawai'i. The site has the potential to educate about and memorialize the experiences of those who were interned during the war. The lessons about civil rights, martial law, race and ethnicity, and community relations are all held within the site and the stories of the individuals associated with it. We welcome its designation as a National Monument and its management by the National Park Service, which has the experience and ability to properly steward this property for the present and future generations to learn from, while ensuring its preservation."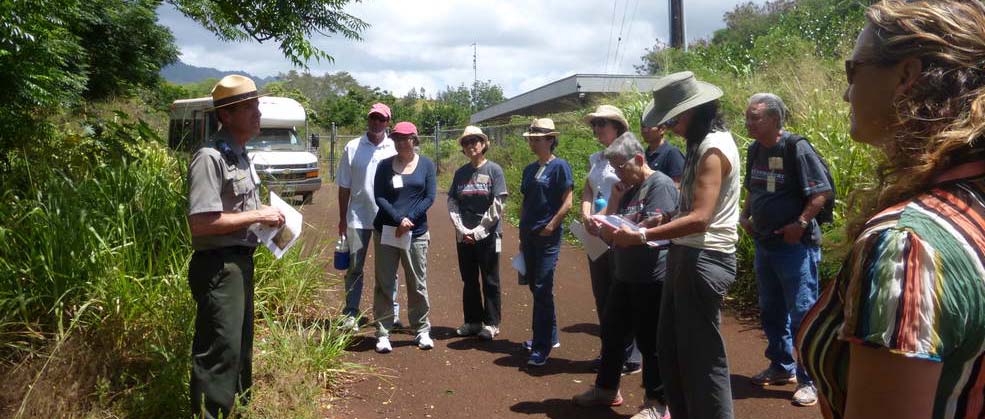 Local and national elected officials from Hawaii all supported the designation of the National Monument.
"President Obama's action ensures that generations to come will be able to visit the Honouliuli Internment Camp and learn about the experiences of persons of Japanese ancestry who were forced to stay there during the war," said Governor David Ige. "The monument will remind all who visit of the terrible injustice these families endured, even while many of their husbands, sons and brothers were fighting for the United States."
"The designation of the Honouliuli camp as a National Monument serves as a solemn reminder that in our nation's history bedrock civil rights have been disregarded in times of conflict as a result of unfounded fear and panic," said Congresswoman Tulsi Gabbard. "Honouliuli was a central piece of the brutal and discriminatory internment system created during World War II; today, the structure remains as a memorial that will educate future generations about the precariousness of freedom in wartime. Mahalo to President Obama and Secretary of the Interior Jewell for recognizing the history of Honouliuli and for making this designation a priority."
"The internment of Japanese American citizens during World War II is a tragic example of what happens when we allow fear and hatred to take the place of rational and just actions," said Congressman Mark Takai. "Honouliuli will serve as a place where we will be able to educate the coming generations about the importance of civil liberties for all people. Now more than ever, we must learn from the mistakes of the past, and the designation of Honouliuli as a national monument will give Hawaii a chance to shine light on this serious issue. I would like to extend a warm mahalo to President Obama for taking the initiative to preserve this historically significant piece of land."
"Honouliuli represents a dark period in our history when thousands of Japanese-Americans in Hawai'i and across the country were forced into internment camps during World War II," said Senator Brian Schatz.  "This historic site will memorialize the strength and bravery of the many Japanese-Americans who faced discrimination and serve as a reminder to ourselves and future generations that we cannot repeat the mistakes of the past.  Our deep gratitude goes to the Japanese Cultural Center of Hawai'i, the Japanese American Citizens League and others who worked tirelessly for this achievement.   It is meaningful and right that Honouliuli has finally received the historic recognition it deserves."
The effort to evaluate and document the site was also supported by a Preservation Fund for Hawaii grant from the National Trust for Historic Preservation (a joint program with HHF), as well as grants from the National Park Service Japanese American Confinement Sites program.