Video Credit to Save Our Hamakua Heritage Ditch: http://youtu.be/EX4thP2acJE
Article Written By: Victoria Wiseman, HONOLULU Magazine
What is it?
The Lower Hamakua Irrigation Ditch is an irrigation system and waterway that was used during the sugar plantation era. It was excavated in 1906, not just for watering sugar crops but also for sending the cane to the mill for processing. Its total length is about 26 miles, including tunnels, flumes to control water flow and open ditches with stone walls.
Community members say that, because of the ditch's role as a community water source and home to micro-
ecosystems that include wildlife such as crayfish, ducks and dragonflies, it's more of a historic waterway than a simple water distribution system. "We don't have many streams in the state of Hawaii; this is essentially a stream with an ecosystem," says Margaret Wille, an attorney and Hawaii County council member. "This connects the community from the past to the future," she says.
What threatens it?
In 2004, heavy rains collapsed part of the ditch, blocking off the transfer of water, says Glenn Okamoto, an engineer for the state Department of Agriculture. The state applied for a FEMA grant to rebuild the section, which was approved. The department's proposed fixes enclose and bury a five-mile section of the irrigation ditch, which critics like Wille say would destroy the spirit of this historic property.
As the project went through the approval process, a memorandum from the state historic preservation division said that the project would have an inverse effect on historic properties, and required some additional study and documentation.
When the community was notified on the eve of its execution, it immediately mobilized and protested to FEMA and the state. The delay has been successful—so far. Despite having purchased the pipes and hired a construction firm, the state has timed out on the FEMA funds, putting the plan is on hold while alternative funding is located.
What can be done?
Luckily for preservationists, the timed-out funding means the entire approval process for the project will have to start again. The Department of Agriculture could change their plan, and repair the section without enclosing it. Two landowners with the ditch running through their land recently scored a win against a case of eminent domain with the state, says Wille, also the attorney who represented them. "If they owned it, they could do anything they wanted. Now, you have to go through the state and federal money involved in environmental and cultural assessments."
"The community should be part of the conversation," she says. "We want an informed community with a say-so in what happens."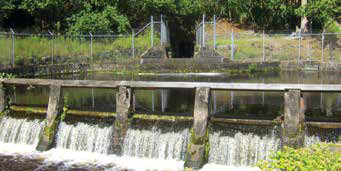 Photo: Courtesy of Edie Bickle